Posts for: February, 2016
By Dr. Kozuch Dental Care
February 23, 2016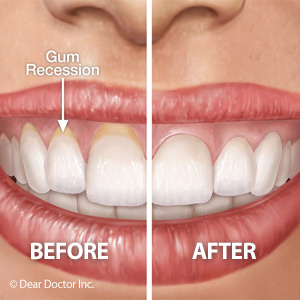 Your gums can take a lot — they're resilient and they endure a variety of abrasive foods over a lifetime. But resilience isn't the same as invulnerability: your gums can be weakened by periodontal (gum) disease or by over-aggressive brushing that causes them to shrink away (recede) from the teeth they protect.
Unfortunately, it's not a rare problem — millions suffer from some degree of gum recession, caused mainly by gum disease. This aggressive infection arises from bacteria in dental plaque, a thin film that builds up on tooth surfaces due to inadequate oral hygiene. Fortunately, gum disease can be effectively treated in its early stages by removing plaque above and below the gum line. Diseased gums will quickly rebound to their normal health.
Unfortunately, though, heavily recessed gums from advanced stages of gum disease (as well as those who've inherited thinner gum tissues and are more susceptible to recession) may not come back fully without help. This can affect the health and survival of affected teeth, as well as your appearance.
Plastic periodontal surgery can help restore these lost tissues. There are a number of procedures that can be used depending on the exact nature of the recession, and most involve some form of tissue grafting. A specimen of donated gum tissue (either from another portion of the patient's gums or a thoroughly cleansed and properly processed donation from another person) is surgically attached to the gums at the recession site.
The graft can be completely freed from the harvest area or in some cases a part of it remains attached to receive blood supply while the rest is grafted to the site. These procedures, especially the latter, require meticulous skill and sophisticated microsurgical techniques to make an effective attachment. If the tooth root is involved, it must be thoroughly prepared beforehand through polishing and decontamination to ensure the new graft will take. The graft is sutured in place and sometimes covered with a moldable dressing for protection.
As the area heals, the tissues begin to grow around the graft, restoring better coverage for the tooth. Coupled with comprehensive gum disease treatment, this form of plastic surgery can restore new health to teeth and a transformed smile.
If you would like more information on treating gum recession with plastic surgery, please contact us or schedule an appointment for a consultation. You can also learn more about this topic by reading the Dear Doctor magazine article "Periodontal Plastic Surgery."
By Dr. Kozuch Dental Care
February 08, 2016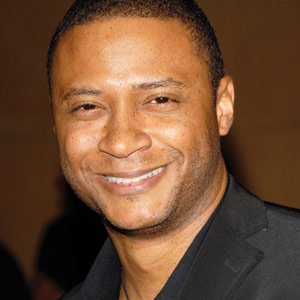 Can you have healthy teeth and still have gum disease? Absolutely! And if you don't believe us, just ask actor David Ramsey. The cast member of TV hits such as Dexter and Arrow said in a recent interview that up to the present day, he has never had a single cavity. Yet at a routine dental visit during his college years, Ramsey's dentist pointed out how easily his gums bled during the exam. This was an early sign of periodontal (gum) disease, the dentist told him.
"I learned that just because you don't have cavities, doesn't mean you don't have periodontal disease," Ramsey said.
Apparently, Ramsey had always been very conscientious about brushing his teeth but he never flossed them.
"This isn't just some strange phenomenon that exists just in my house — a lot of people who brush don't really floss," he noted.
Unfortunately, that's true — and we'd certainly like to change it. So why is flossing so important?
Oral diseases such as tooth decay and periodontal disease often start when dental plaque, a bacteria-laden film that collects on teeth, is allowed to build up. These sticky deposits can harden into a substance called tartar or calculus, which is irritating to the gums and must be removed during a professional teeth cleaning.
Brushing teeth is one way to remove soft plaque, but it is not effective at reaching bacteria or food debris between teeth. That's where flossing comes in. Floss can fit into spaces that your toothbrush never reaches. In fact, if you don't floss, you're leaving about a third to half of your tooth surfaces unclean — and, as David Ramsey found out, that's a path to periodontal disease.
Since then, however, Ramsey has become a meticulous flosser, and he proudly notes that the long-ago dental appointment "was the last we heard of any type of gum disease."
Let that be the same for you! Just remember to brush and floss, eat a good diet low in sugar, and come in to the dental office for regular professional cleanings.
If you would like more information on flossing or periodontal disease, please contact us today to schedule an appointment for a consultation. You can also learn more by reading the Dear Doctor magazine article "Understanding Gum (Periodontal) Disease."